Rate doubled in under-50 age group since 1995, concerning trend toward more advanced disease.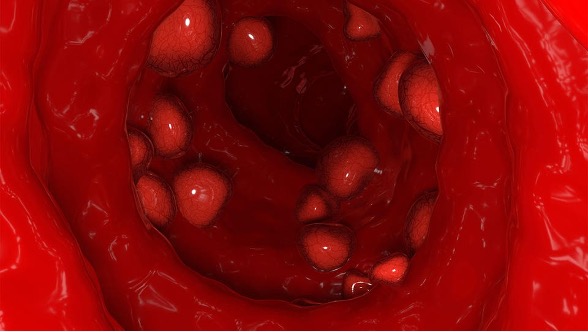 Diagnosis of colorectal cancer (CRC) in younger people has almost doubled since 1995, a steeper increase than previously recognized, according to a study from the American Cancer Society (ACS).
The proportion of new diagnoses in patients younger than 55 increased from 11% to 20%. New cases of CRC rose by 2% annually among individuals younger than 50 and those 50-54. The incidence declined among people 65 or older, a trend that started in 2011.
The overall rate of decline in CRC incidence and mortality has slowed substantially since 2000, and the number of newly diagnosed advanced cancers has increased, reported Rebecca Siegel, MPH, senior scientific director of surveillance research at the ACS, and coauthors, in CA: A Cancer Journal for Clinicians.
"We know rates are increasing in young people, but it's alarming to see how rapidly the whole patient population is shifting younger, despite shrinking numbers in the overall population," Siegel said in a statement. "The trend toward more advanced disease in people of all ages is also surprising and should motivate everyone 45 and older to get screened."
Explanations for the concerning trends remain elusive.
"We have to address why the rates in young adults continue to trend in the wrong direction," said Ahmedin Jemal, DVM, PhD, senior vice president of surveillance and health equity. "We need to invest more in research to uncover the cause of the rising trends and to discover new treatment for advanced-stage disease to reduce the morbidity and mortality associated with this disease in this young population, who are raising families and supporting other family members."
The ACS data back up what colon cancer specialists have observed in clinical practice, said Michael Shusterman, MD, of the NYU Langone's Perlmutter Cancer Center in New York City.
"We have seen an increase in patients in their 30s and 40s with rectal and left-sided colon cancers, consistent with the ACS report on epidemiological trends," Shusterman told MedPage Today via email. "This population has unique needs including concerns regarding fertility, sexual health, and long-term cancer survivorship. Particularly for rectal cancer, our team has worked in a multidisciplinary patient-centered fashion to bring modern total neoadjuvant therapy protocols, where applicable, to allow for organ preservation in appropriate patients."
The ACS data "underpin recent guideline changes from the USPSTF [U.S. Preventive Services Task Force] and the ACS for adults 45 to 75 years of age to be offered screening for colorectal cancer with one of several modalities," Shusterman added. "Awareness of this change and sensitivity among primary care providers is critical to ensure that screening is provided to all newly eligible individuals."
Siegel and coauthors gleaned the findings from an analysis of the NCI Surveillance, Epidemiology, and End Results program and the CDC's National Program of Cancer Registries for the years 1995 through 2019. National mortality trends through 2020 came from the National Center for Health Statistics.
From the data, investigators estimated that 153,020 new cases of CRC will be diagnosed during 2023, and 52,550 people will die of the disease. The totals included 19,550 new cases and 3,750 deaths among individuals younger than 50.
Key findings from the analysis included:
Rates of decline in CRC incidence and mortality slowed from 3-4% annually during the early 2000s to 1% for incidence and 2% for mortality in the past decade
Men had a 33% higher incidence during 2015-2019 (41.5 vs 31.2 per 100,000)
Incidence continued to decline among people 65 or older, stabilized in the 50-64 age group and increased by 2% annually in people younger than 50 and those 50-54
CRC mortality increased by 1% annually among people younger than 50 and by 0.6% a year in the 50-54 group
Advanced-stage disease (locally advanced and metastatic) now accounts for 60% of all newly diagnosed CRC, as compared with 52% in the mid-2000s
CRC incidence is highest among Alaska Natives (88.5/100,000), American Indians (46/100,000) and Black individuals (41.7/100,000), and lowest among whites (35.7/100,000), with similar trends for CRC mortality
"These highly concerning data illustrate the urgent need to invest in targeted cancer research studies dedicated to understanding and preventing early-onset colorectal cancer," said ACS CEO Karen E. Knudsen, MBA, PhD. "The shift to diagnosis of more advanced disease also underscores the importance of screening and early detection, which saves lives."
~ credit MedPage Today, Charles Bankhead